I can't remember how I got into street photography apart from a disdain for taking the same travel pictures that everyone else has taken. Everyone has seen the Eiffel Tower, another image of it with the same framing seems pointless. But the streets — the interactions between people, both conscious and unconscious, the ways people go about their lives, what is seemingly normal to everyone in this place but unthinkable back home — to me that makes for interesting images. After a while, I started taking my camera out with me everywhere, even if I wasn't somewhere new. While it's certainly harder to get lost in the city I call home, there's a visual richness to life that can be found anywhere if you're looking for it.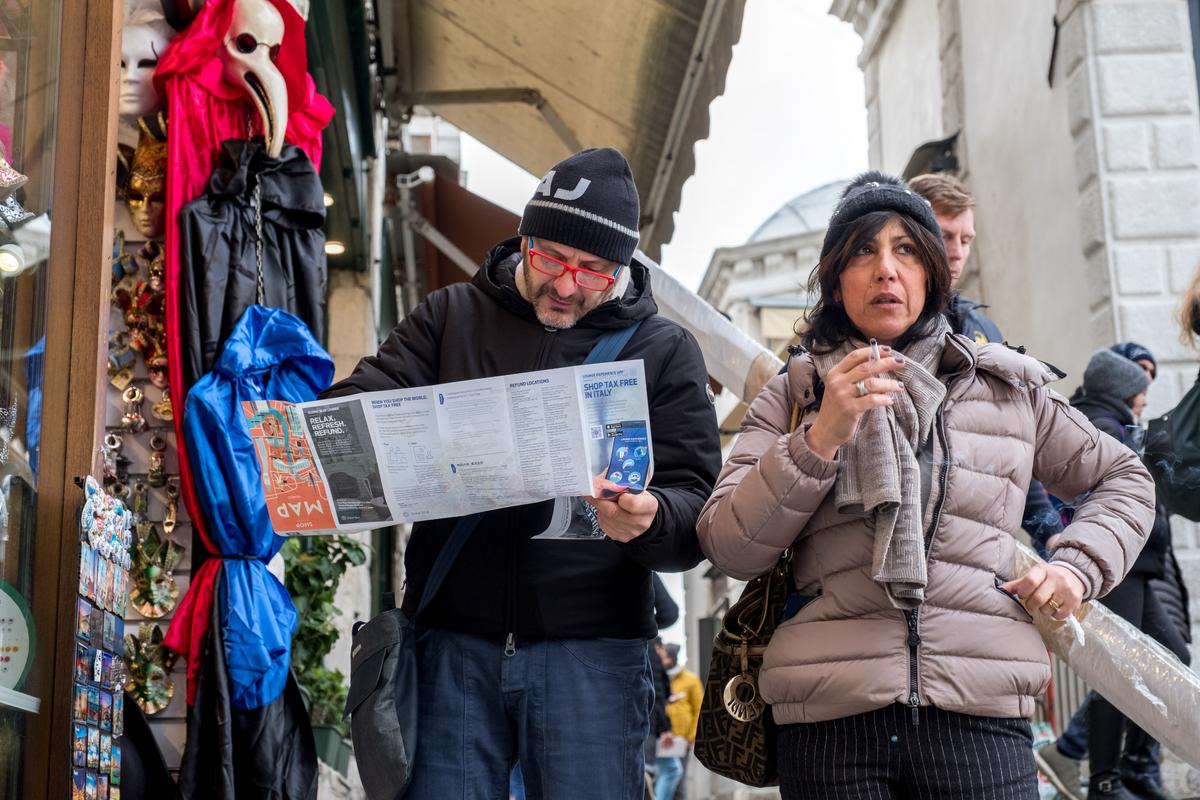 I often kick myself out of the house armed with my camera and a desire to get caught up in the hum and bustle of the city. We live so much of our lives on automatic, caught up in our thoughts or on our phones. Our brain is very good at cutting out the distractions we encounter as we move from place to place, obscuring the messy, complex world around us into our periphery, allowing us to focus our thoughts elsewhere, perhaps on where we are going. But we miss so much. Having my camera with me forces me to actually look, to notice the lives being lived around me, the people on their way to work, the tourists trying to make sure they see everything that they've already seen on TripAdvisor, the people who obviously would rather have stayed in bed, the people who jumped headfirst into their days and are thrilled about it, just to name a few.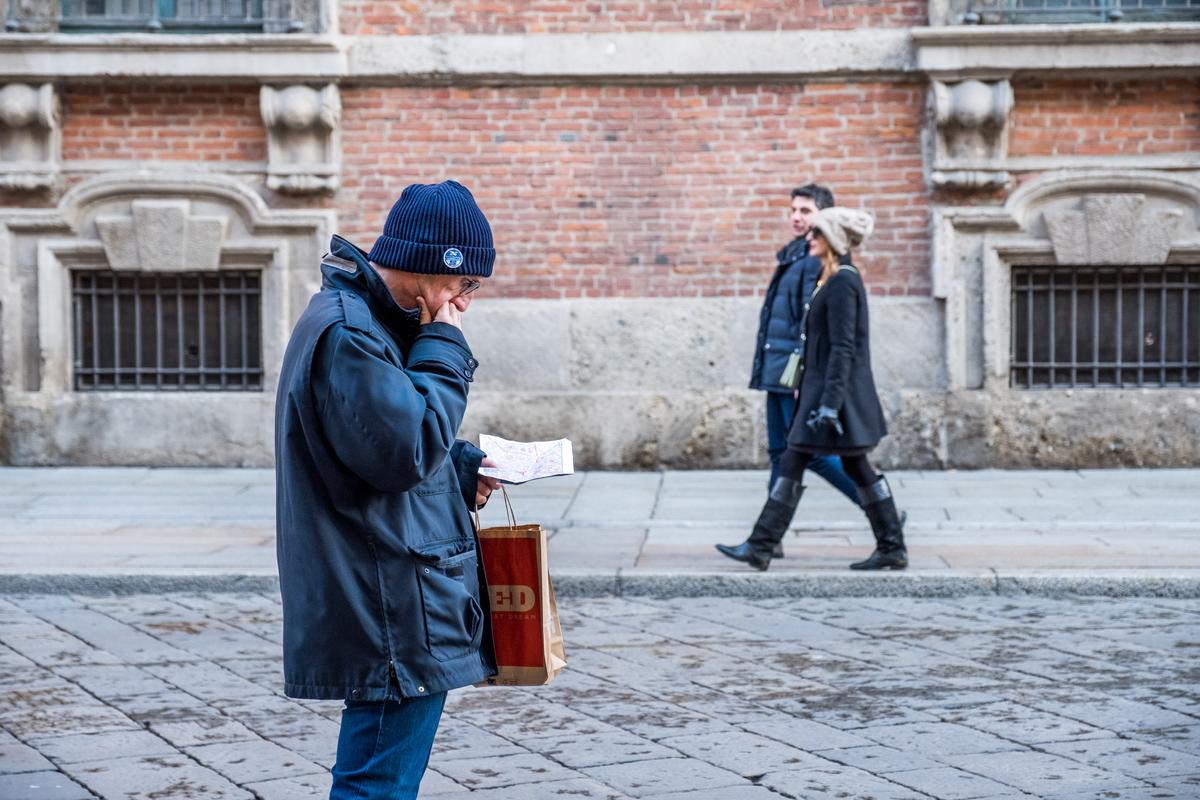 Street photography for me is an exercise both, in seeing and exploring the world around me, and also in capturing the emotion of the streets. I don't always get amazing photos but it always connects me with my surroundings and clears my head. Besides, I like to think along the lines of Markus Hettel when he said, "street photography is like gambling. You either get lucky or you get nothing". The draw of being lucky, of finding that perfect moment, of the unknown never fails to motivate me. Wandering around the streets aimlessly for hours, something is sure to jump out at me.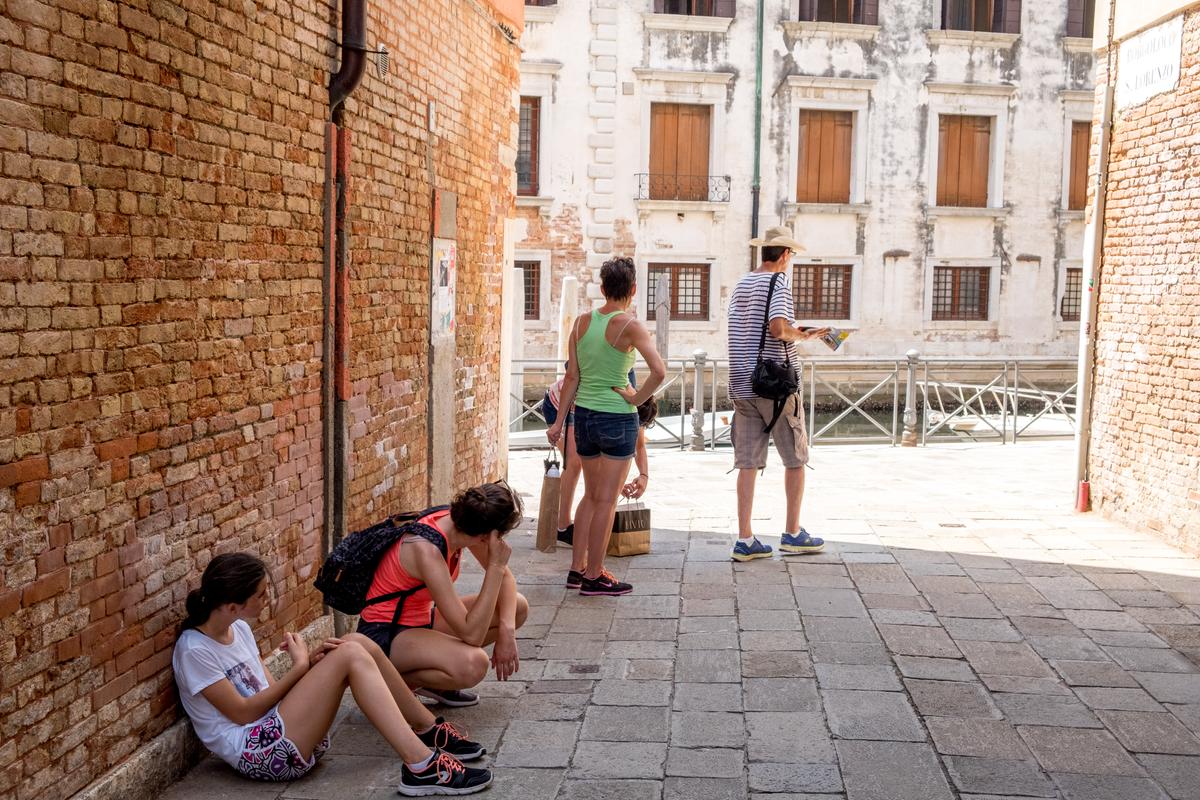 My favourite place to take photos has to be Venice — the chaos of people and the labyrinth of streets means that there's always something going on and that it's very easy for me to get lost. With no idea of where I am and nowhere to be, all I can do is explore and try to capture what is happening around me. Out wandering the streets of Venice with my camera I started noticing patterns in the photos that I was taking, the points where tourists and locals clashed, the little alleyways and hidden piazzas, and all the hopelessly lost people, staring into maps trying to figure out where to go next. I quite enjoy the feeling of being lost, approaching a crossroads and randomly choosing my path forward, following the most interesting person I can see for a few blocks to see where they're off to and then moving onto the next. This doesn't seem to be a common attitude though and I became drawn to the people trying to figure out where in the world they were and especially those with paper maps, a technology that is fast becoming a relic.